How to play SOCOM II Online
---
Table of Contents
Things you'll need
PCSX2 or Homebrew-Enabled PS2
One-time patch needed for downloading the R004 Update. [DOWNLOAD]

This patch will also be needed if you use the emulator or a backup copy of the game.
Network Setup
Before you begin, you will need to make sure you have a valid network configuration set up on your console. If you have set up SOCOM I or any other game from SocomCommunity, you may skip this step. This portion of the guide differs for PCSX2 and PS2 consoles.
PCSX2 (Emulator) Network Plugin Setup
Update your video plugins
PCSX2 has some graphical glitches for some games and the network configuration screens do not work.
A patched version of the GSdX plugins for PCSX2 are available for download HERE
Simply download the file and extract the contents into your PCSX2 plugins folder.
DEV9 Plugin
Before we get started, make sure that you are using the latest version of CLR_DEV9, which at the time of writing this guide is CLR_DEV9 0.9.0.

To check this version open the emulator and in the top menus select Config → Plugin/BIOS Selector
The version will be located at the bottom of the plugins section.

If your plugin is not this version or newer, you can download it HERE and extract it into your PCSX2 Plugins folder.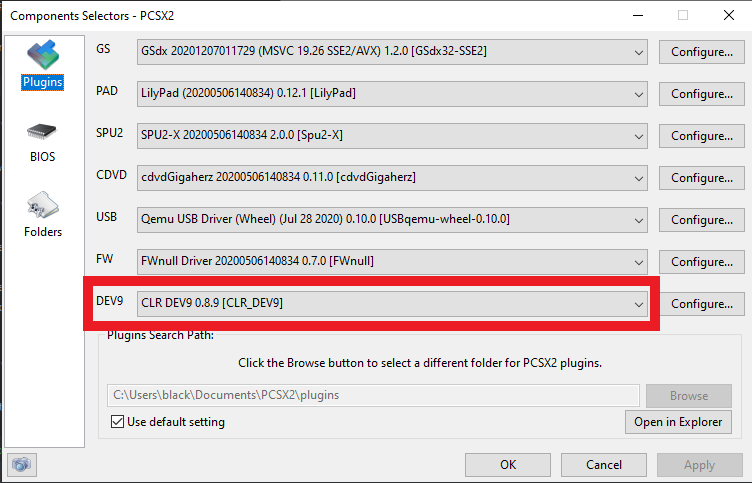 DEV9 Network Configuration
Setting up your network configuration for CLR_DEV9 is very simple. Once you have confirmed your plugin is up to date, go back to the main PCSX2 window.
Select Config → Dev9 → Plugin Settings
Next to "Enable Ethernet" click on Options
Under "Connection Method" select WinPcap Switched (Promiscuous)
For "Adapter" you will need to select the adapter you use on your computer for connecting to the internet.

If you are on wifi, select the adapter that resembles your PC's wireless card.
If you are connected via an ethernet cable, select your PC's ethernet card. (It will be something along the lines of 'Ethernet # - Some Manufacturer')
Do not select TAP if it's an option!

Click Apply on both windows.
Once you have completed your plugin setup if you haven't created a Network Configuration in-game, you may reference the "PS2 Network Setup" section above and follow all instructions. You may skip the DNS entry and leave it set to "Auto".
Create a Network Config
Boot up the game and go to the Online Menu. Once you are there, click on "Edit Network Configurations"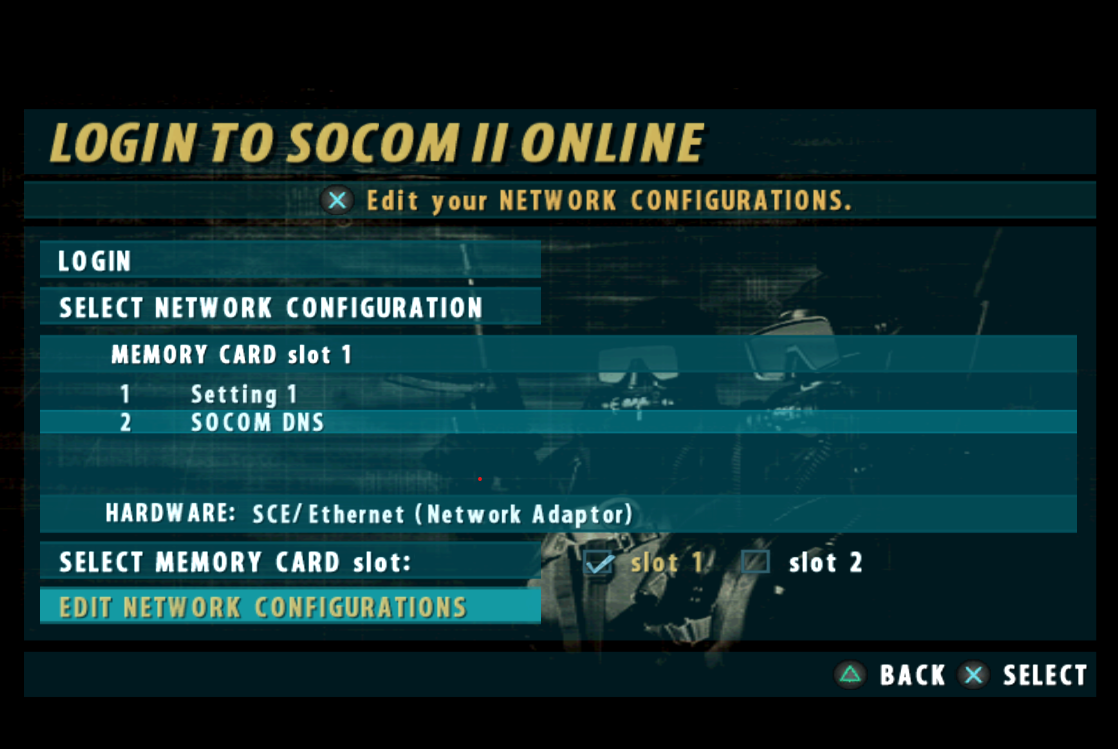 Create a new network config and use all defaults by pressing X then Right-Dpad until you get to the DNS server option.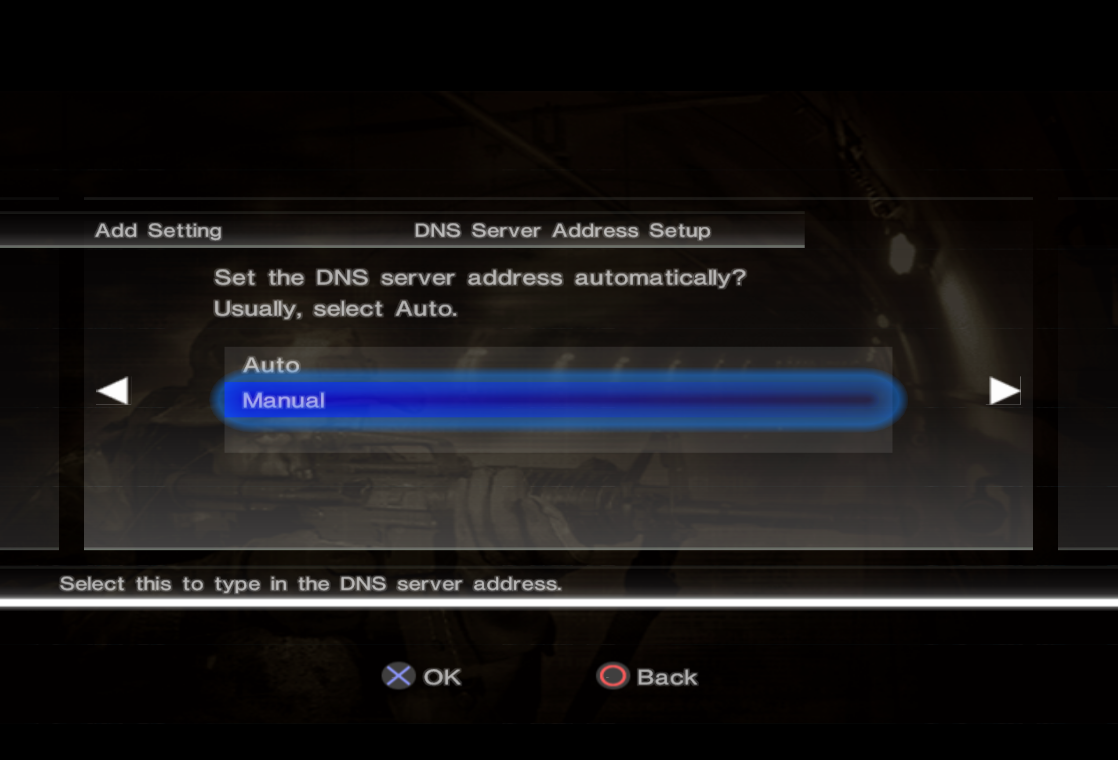 Once you are here, you will need to select "Manual", then press Right D-pad.
Enter the DNS IP Address of "67.222.156.250" into the Primary DNS field
Leave Secondary blank. (0.0.0.0)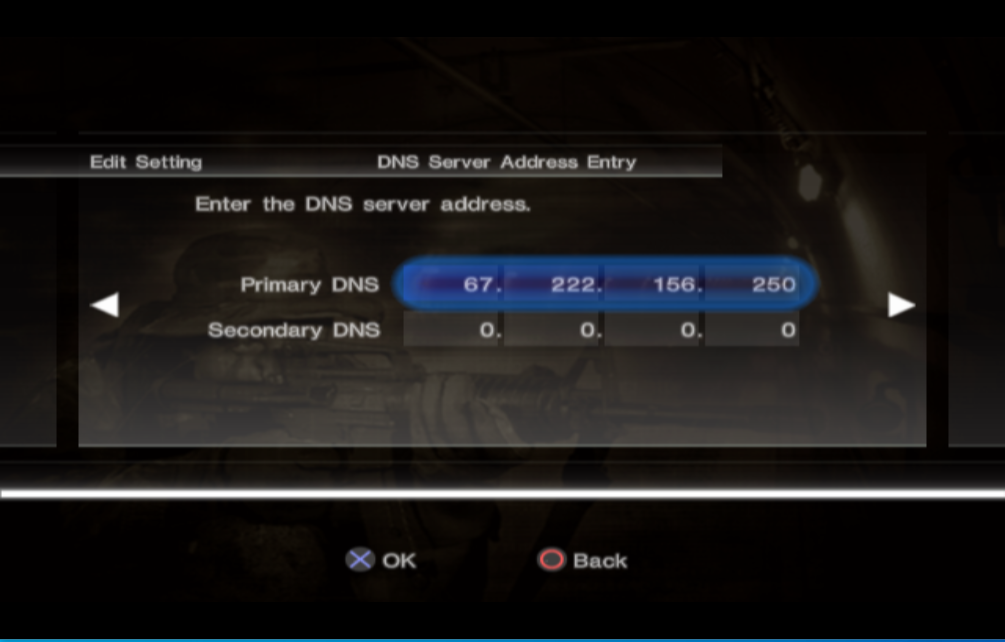 Complete the rest of the Network Configuration and save it to your memory card.
Downloading the R0004 Update.
A one-time patch is needed in order to bypass the DNAS authentication on the base version of SOCOM II. Unfortunately this is unavoidable at this time.
If you have not downloaded it from the link at the top of this guide, it can be found HERE
Put the ELF file on your PS2's flash drive if you are on a console and boot it via FreeMcBoot.
Once the game has loaded, select "Online" and connect.
The bottom of the main menu will still say "SOCOM 2 r0001" at this point!
After a successful connection, click on the shown universe.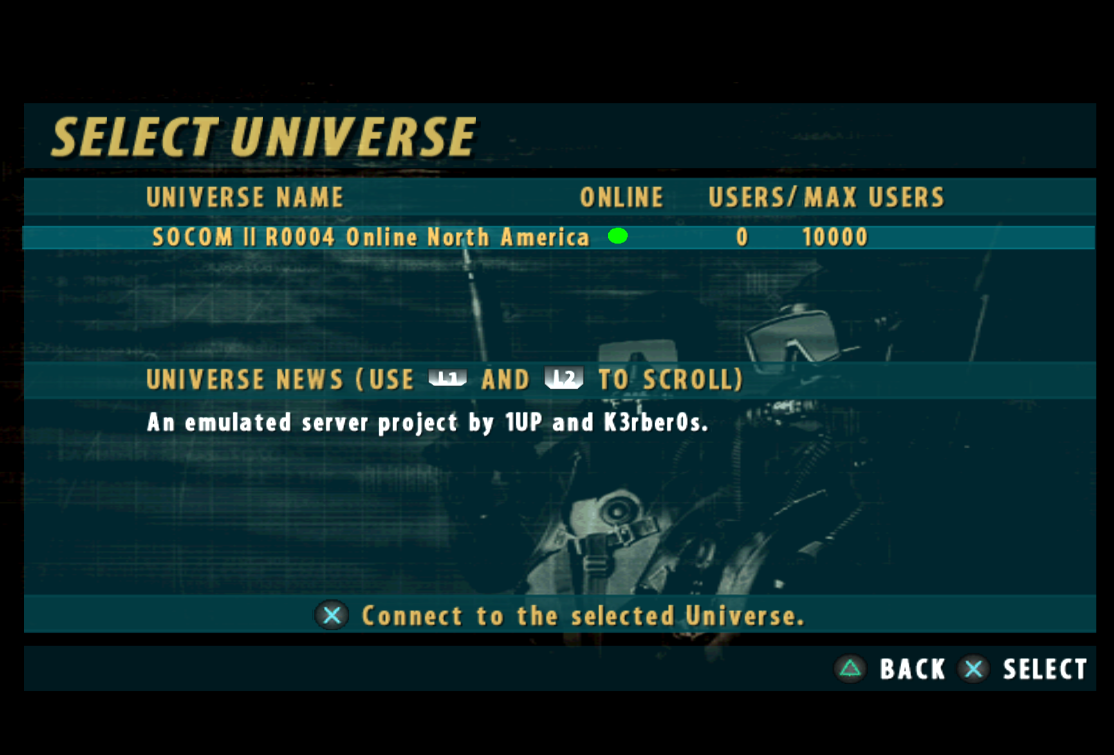 Download the update when prompted to.
**The download can take a few minutes. Please be patient.
Once the update has downloaded, save it to your memory card and restart your console manually.
**If you attempt to let the game restart on its own, it will freeze. This is expected.**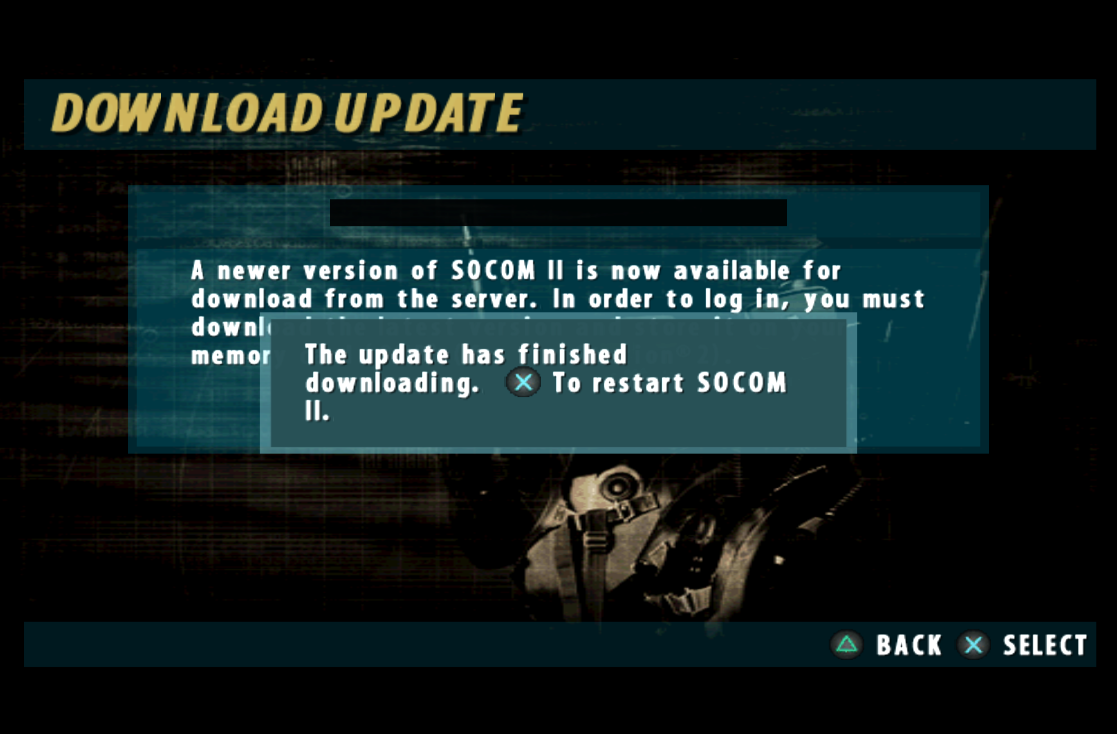 Playing the Game
If you are using an official game disk, nothing is needed and you may play normally. You may verify that you are on the correct version of the game by checking the bottom of the main menu for the correct version.

However, if you are using an ISO/Backup of the game, you will need to use the patch from this guide to boot the game.

If you are using a backup copy of the game on your PS2/PS3 you will need to update your ISO to use this patch which is not covered by this guide.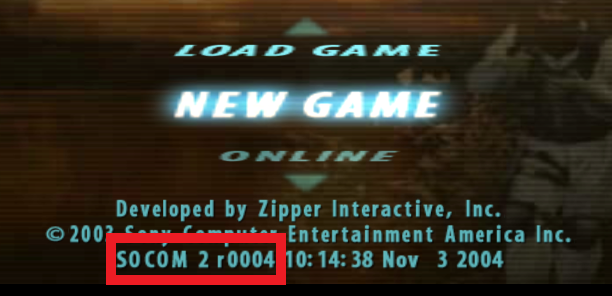 Installing DLC Maps on PCSX2
SOCOM II r0004 contains support for 3 additional maps for online play via the HDD. PCSX2 with CLR_DEV9 contain support for loading these maps from an HDD disk image.
The HDD image file needed can be downloaded HERE
Setting up the PCSX2 HDD
Download the file above and extract it to your PCSX2 directory.

You will now need to configure the DEV9 plugin on PCSX2 to use this HDD Image
Open PCSX2 and in the main window menu navigate to Config → DEV9 → Plugin Settings
Check the box next to "Enable Hdd"
Click Options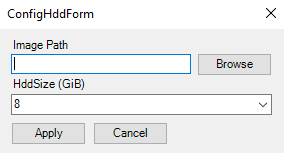 Click "Browse" and select the file you extracted earlier to your PCSX2 directory.
Your settings should look similar to this.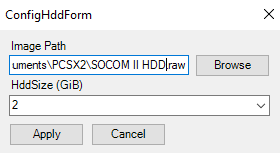 Click "Apply" on both DEV9 windows.
DO NOT CHANGE THE HDD SIZE OPTION!

You may now boot up SOCOM II in order to enable the in-game HDD
Enabling the HDD for SOCOM II
At the main menu of the game, select "Options"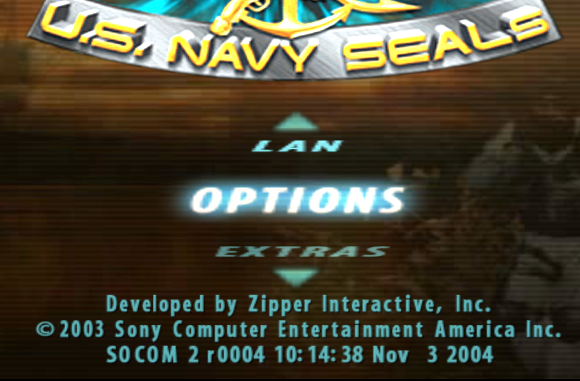 Enable "HDD" option in settings, and return to main menu.
Save to your memory card when prompted.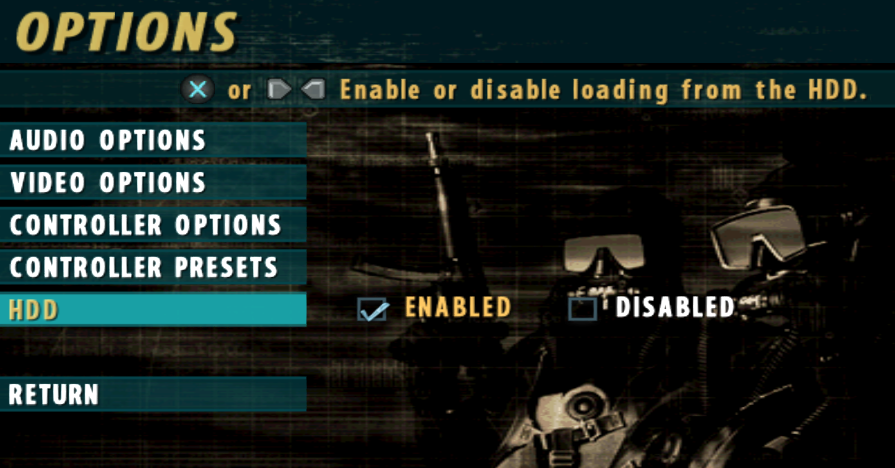 You are now ready to use the Online DLC!
FAQ
I've done everything in this guide and I still get stuck at the "Looking for Universes" screen
Some ISPs block DNS updates. Unfortunately there is not much we can do about that and it may be worth contacting your ISP for more information.
If all else fails, a secondary patch is available that bypasses the DNS requirement and can be downloaded [HERE]
When setting up the DEV9 plugin, I do not have an option for WinPcap
There are 2 causes for this.
You just installed WinPcap and have not rebooted your PC.
Your network card does not support WinPcap, and you may need to use Winsock instead.
When I boot the patch for the first time my game still says r0001!
You didn't read the guide close enough. The patch only gives you the ability to download the update from our server. You need to go online in order to download the update.
Some maps are really slow and laggy for me on the emulator... What's the deal?
Luckily, thanks to Harry62, a fix is available for this. Simply go online and anywhere in chat type "/rfix on" and this will save to your account and apply the render-fix automatically every time you log in.